Click here for a Family Tree of Malseed Pioneers.
Here is a story and pictures of the first Malseeds in Australia.
Thanks to Ian McLeod of Tasmania for this information from his book.
Click on the pictures to see them larger.
The Malseed Pioneers
by Ian McLeod of Tasmania
The good ship Courier arrived in Melbourne on 11 September 1849. The voyage had lasted three months and four days, plenty of time for John and Betty Malseed to wonder about what their life would be like in the Great South Land. They were pathfinders for the other Malseeds who, over the next eight years, would follow them across vast oceans to the Western District of Victoria.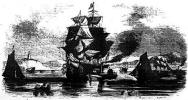 An Emigrant Ship Departs England 1851.

The Shipping List for the Courier shows that John was a carpenter, that Betty was a housekeeper, that they would be employed by John Black of Portland and receive wages of seven shillings per day. The inclusion of employment details signifies that the immigrant couple were 'assisted' migrants; that is, their passage out, or part of it, had been paid for by an emigration society. They would be expected to repay that advance after a certain period of employment in Australia. Later Malseeds arrived as 'unassisted' migrants.

A week after their arrival, on 18 September 1849, John and Betty left Melbourne for Portland on the Raven, a brig of about 220 tons. According to the Belfast Gazette she off loaded "5 passengers and 120 migrants" at Belfast (Port Fairy) and then on 4 October 1849 proceeded to Portland, arriving there the same day. The Portland Guardian records that the Raven arrived with "40 orphans and 19 emigrants."

My Uncle Roy (Robinson McNally Malseed) wrote in 1965 that his grandfather John Malseed joined in the Gold Rush of the early 1850s and returned . . . "with gold on his shoulder under his shirt, which he used to buy his first land". John and Betty moved from Portland to Whittlebury, then later, in 1886, selected land at Myamyn. No doubt John the carpenter built their Myamyn home, Marengo , and the fence around it, with his own tough pioneering hands.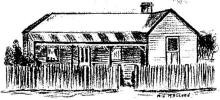 "Marengo", Myamyn

John Malseed

Betty Malseed nee Wallace
John Malseed was a roadworks contractor at Myamyn and built roads complete with the necessary culverts and bridges. His son John Wallace (John Junior) worked with him. Later on John Junior's son Jesse did similar work with the local council.
John must have sent back to Donegal good reports of life and opportunities in the Western District. The first of the family to follow, in November 1853 -- four years after the arrival of John and Betty, was John's next-younger brother Robert, a twenty year old adventurer on the Mobile. One can imagine the exuberance of the reunion of the two brothers and the sadness of Robert's parting from his parents and the brothers and sisters left behind in Ireland. Some of them, and certainly the parents, would be seen no more. John had started that heartbreaking scenario; it would be repeated again and again.
The next to embark on the long voyage to the Antipodes was a party of three who arrived on the Blanche Moore in June 1855. That trio consisted of John's younger brother James Junior (at that time twenty years of age), his eighteen year old sister Eliza Ann and their first cousin from neighbouring Ardrummond, the comparatively mature twenty-five year old James Malseed. Almost four years later, on 7 April 1859, Eliza Ann married her fellow-seagoing cousin James, variously known to the family as James Senior and Cousin Jimmy. Her brothers James Junior and Robert were the witnesses to the marriage.
In August 1857 Cousin Jimmy's brother Henry arrived in Australia, aged twenty-eight, on a ship called the Greyhound. He was the only one of the family not to marry and not to bequeath to his adopted country hundreds of fine descendants. He died an old bachelor and left his farm Melrose at Drik Drik to his brother James' son, Sam Malseed.
The last to make the trip was Stewart Malseed, brother to John, Robert, James Junior and Eliza Ann. On 8 January 1857, in County Donegal, Stewart had married a girl called Margaret Allison. They did what had become the traditional thing on both sides of the Irish Sea; soon after their marriage they departed for Australia, arriving on the Commodore Perry in September 1857 only one month after Henry. Both Stewart and Margaret were recorded on the shipping list as being twenty-five years of age. Margaret died in childbirth ten years later; Stewart re-married five years after that.

James Malseed Junior

James Malseed and Eliza Ann Malseed
James Jnr married Mary Thirza Hedditch; they had nine children. James and Eliza Ann parented twelve children between 1860 and 1882. Their marriage was a precursor of many more Victorian marriages between Malseed cousins. Throughout history, in Ireland as well as in Victoria, the Malseeds have demonstrated (with no ill effect whatsoever) an extraordinary propensity to marry each other.

William Stewart Malseed and Sarah Thompson Malseed
William Stewart Malseed was the last of the children (all Australian-born) of John and Betty (Elizabeth Wallace) Malseed. Sarah Thompson Malseed's parents were James and Eliza Ann Malseed. William and Sarah had six children.

Mary (nee Satchell) and John Wallace Malseed
John Wallace Malseed was another of the sons of John and Betty Malseed. He married Mary Satchell of Heywood and they parented eight children. Mary was the sister of Elizabeth Satchell, who wed Thomas William Malseed, a son of Robert Malseed (the second of the Malseed pioneers to arrive in Portland) and his wife Barbara Neill. Altogether, Robert and Barbara had eight children.
It's been interesting to see the different ways in which shipping clerks contrived to spell the unfamiliar name 'Malseed'. On the Courier for John and Betty it looks like 'Matsea'. The Mobile Shipping List has Robert as 'Molseen'. The clerks did better on the Blanche Moore, for on that vessel James Junior, Eliza Ann and James Senior were all 'Mollseeds'. A still better job was done by them for Cousin Henry; 'Molseed' on the Greyhound. Their last misinterpretation of the spoken word resulted in the surname of Stewart and Margaret on the Commodore Perry being recorded as 'Mulsea'.


The Courier manifest - entries for John and Betty.
Page Last Updated: 14 March 2007